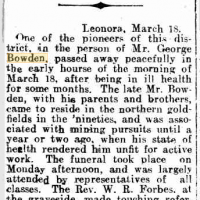 Kalgoorlie Miner, Wed 20 Mar 1929
George BOWDEN
Age at Death57
Date Of Death17 March 1929
Place Of BirthDurham, England
OccupationMiner
Spouse's NameJuliana MALONEY
ChildrenNone
Kalgoorlie Miner, Wed 20 Mar 1929
Name Of Mine On Which Last Employed
Sons of Gwalia GM, Western Australia
Diagnosis or cause of accident
Phthisis.
Place Of Treatment (Miners Lung Only)
Leonora District Hospital, Western Australia
Place Of Burial
Leonora Cemetery, Western Australia
Submitted by
David McMillan
Father
Charles BOWDEN
Mother
Charity HARBISHIRE
Place of marriage
Kalgoorlie WA
Other Information
His brother William BOWDEN died of Pneumoconiosis at leonora in 1918. Leonora Cemetery: BOWDEN George, d 17 Mar 1929, Manning Street, Gwalia, Occ:- Miner 57yrs, Cause:- Phthisis, Father:- Charles BOWDEN (Miner) Mother:- Charity HARBISHIRE. Born Durham, England, In NSW 22yrs In WA 33yrs, Married to Juliana MALONEY in Kalgoorlie WA at age 27yrs, buried Leonora Cemetery. Mt Marg death cert 4/29.