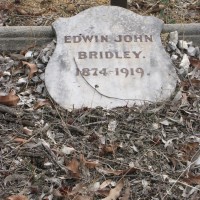 Source: https://www.findagrave.com/memorial/163095911
Edwin John BRIDLEY
Age at Death44
Date Of Death29 July 1919. Reg 152/1919 Northam.
Place Of BirthBurnie, Tasmania
OccupationUnknown
Diagnosis or cause of accident
Miners phthisis.
Place Of Treatment (Miners Lung Only)
Wooroloo Sanatorium, Western Australia
Place Of Burial
Wooroloo Cemetery, Wooroloo, Western Australia
Submitted by
David McMillan
Father
Frances McIntosh Bridley
Mother
Hester Maria Medwin
Other Information
His brother Henry Francis Bridley (1873-1898) died in Kalgoorlie Hospital, cause unknown.