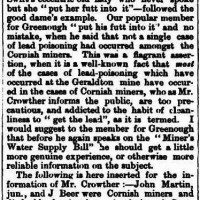 Western Australian Times, Friday 3 November 1876
John BEER
Date Of Death1876
Place Of BirthCornwall, England.
OccupationMiner
Name Of Mine On Which Last Employed
Geraldine Mine, Northampton, Western Australia
Diagnosis or cause of accident
Died of lead poisoning.
Place Of Burial
Geraldine Mine burial ground on the Murchison River, Western Australia
Submitted by
David McMillan
Other Information
Beer, John. "Western Australian Lonely Graves & Burials at Sea Vol 1 A-E". (2017) Coate, Yvonne&Kevin. Hesperian Press. Page 67.