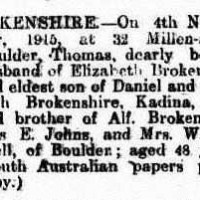 Kalgoorlie Western Argus, 9 November 1915
Thomas BROKENSHIRE
Age at Death48
Date Of Death4 November 1915
Place Of BirthWheal Ellen Mines Dist, Strathalbyn, South Australia
OccupationMiner
Spouse's NameElizabeth Ann Casley
ChildrenVera Beatrice, Harold James, Rose
Length Of Time Working In Mining Industry
21 years in W.A.
Diagnosis or cause of accident
Died of pneumoconiosis and pulmonary tuberculosis. (Pneumoconiosis is an occupational lung disease and a restrictive lung disease caused by the inhalation of dust, often in mines and from agriculture.)
Place Of Treatment (Miners Lung Only)
Wooroloo Sanatarium, Western Australia
Place Of Burial
Private cemetery at Wooroloo Sanatarium, Western Australia
Submitted by
David McMillan
Father
David Brokenshire
Mother
Elizabeth Jane (nee Eustace)
Place of marriage
Wallaroo Mines, South Australia
Other Information
Brokenshire, Thomas. "More Lonely Graves of Western Australia" (2000) Coate, Yvonne & Kevin. Hesperian Press. Page 47. Wooroloo Sanitorium was built to manage people suffering from tuberculosis in Western Australia in the early 1900's. Treatment of TB was focused on fresh air and sunshine. The site at Wooroloo was chosen because of the beauty of the countryside and elevation of the site. Patients with leprosy were also isolated at Wooroloo. Wooroloo is located 60km north east of Perth and 26km north east of Mundaring.