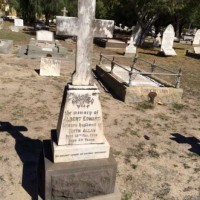 Karrakatta Cemetery
Albert Edward John ALLAN
Age at Death39
Date Of Death15 February 1916
Place Of BirthMacArthur, Victoria
OccupationQuarryman
Spouse's NameEdith Marion McDonough
ChildrenEleanor and Dorothy.
Name Of Mine On Which Last Employed
Boya Quarries, Midland, Western Australia
Diagnosis or cause of accident
Fell 70ft down the quarry face and died in hospital.
Submitted by
David McMillan
Cause of Death
Mine Accidents
Father
John Henry Allan
Mother
Eleanor Webber
Place of marriage
Perth, Western Australia. 1913.