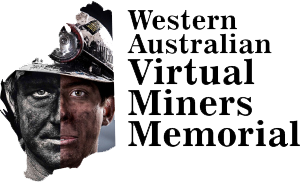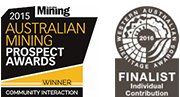 2017

BERTONELLI Giovanni Miner 19/08/1907 Ingliston Consols GM Meekatharra

CURRAN Michael   32 Y Miner 19/08/1907 Ingliston Extended Consols GM Meekatharra Fall of earth Buried - Meekatharra

 

HAMILTON Donald Miner 19/08/1926 Dinnie GM Mt Monger Kalgoorlie-Boulder Struck by fall of stone

ROWE William John 49 Timberman 19/08/1919 Lancefield GM Laverton Struck by falling skip Laverton

TAVERINI Dominic 32 Miner 19/08/1914 Sand Queen GM Comet Vale Comet Vale

ZAPPELLI Kevin John 17 Labourer 19/08/1969 Croesus GM Kalgoorlie-Boulder Kalgoorlie






© 2016 WESTERN AUSTRALIA VIRTUAL MINERS MEMORIAL. ALL RIGHTS RESERVED. ALL CONTENT POSTED ON THIS SITE IS COMMENTARY OR OPINION AND IS PROTECTED UNDER FREE SPEECH. THE INFORMATION ON THIS SITE IS PROVIDED FOR EDUCATIONAL PURPOSES ONLY. IT IS NOT INTENDED AS A SUBSTITUTE FOR PROFESSIONAL ADVICE OF ANY KIND. WAVMM ASSUMES NO RESPONSIBILITY FOR THE USE OR MISUSE OF ANY MATERIAL CONTAINED ON THIS WEBSITE FROM US OR OUR USERS.