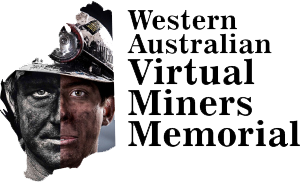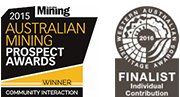 2017

CRAIG Daniel Lynch Shoveller 16/12/1910 Golden Horseshoe GM Kalgoorlie-Boulder

DAVIES William Age 71 Engineer 16/12/1931 Associated GM Kalgoorlie-Boulder

SLOGGETT Charles Phillip Age 38 Underground Manager 16/12/1896 Golconda GM Lake Austin

SUTHERLAND James J Miner 16/12/1938 Central Norseman GM Norseman

PAPADOPOULOS Aristides Quarry Owner 16/12/1960 Limestone Quarry, Burns Beach Road Waneroo Buried under a fall of rock






© 2016 WESTERN AUSTRALIA VIRTUAL MINERS MEMORIAL. ALL RIGHTS RESERVED. ALL CONTENT POSTED ON THIS SITE IS COMMENTARY OR OPINION AND IS PROTECTED UNDER FREE SPEECH. THE INFORMATION ON THIS SITE IS PROVIDED FOR EDUCATIONAL PURPOSES ONLY. IT IS NOT INTENDED AS A SUBSTITUTE FOR PROFESSIONAL ADVICE OF ANY KIND. WAVMM ASSUMES NO RESPONSIBILITY FOR THE USE OR MISUSE OF ANY MATERIAL CONTAINED ON THIS WEBSITE FROM US OR OUR USERS.