Jacqui Graham ins the Great Grand daughter of Richard Dawes and this story is produced with her permission.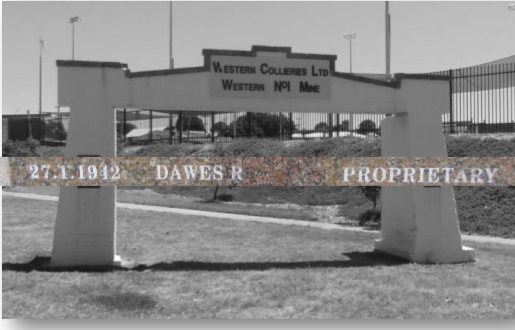 Jacqui Graham, Memorial Western Collieries Ltd, Western No 1 Mine, 2016, digital image, personal collection.
Dark as a dungeon…
Richard DAWES was born in the coal mining precinct of Newcastle, New South Wales on the 20th July 1888. He was the seventh of eight children born to Charles Dawes (1845-1921) and Christiana, nee Pearson (c1841-1924). Five children of the marriage were born in Derbyshire and three born in New South Wales. Of the children born in England, only three survived to adulthood.
Richard seemed destined to take up the pick and shovel. His father, Charles, worked the pits at Staveley. His Grandfather, Richard Dawes (c1812-1892), worked as a collier at Alfreton. Richard's Great Grandfather, Paul Dawes (c1792-1839), a Hindley miner, was accidentally killed by falling coal aged 47. For the Dawes men, the pursuit of 'black gold' was ingrained – a lifestyle as much as an occupation.
Richard's parents immigrated to New South Wales in 1876 aboard the 'Nineveh'. In the early 1870's, the English coal industry was experiencing a period of paradox – all time highs in prices and wages negated by the influence of unionism. Miners trying to eke out a living were pawns in a political storm. In New South Wales, the burgeoning industrial sector was in desperate need of additional labor. Charles Dawes, enticed by an assisted passage and opportunities for prosperity in Australia, packed up his young family and bid farewell to Mother England.
"Where it's dark as a dungeon, damp as the dew Danger is double, pleasures are few Where the rain never falls, the sun never shines It's dark as a dungeon way down in the mine."
At the time of Richard's birth in 1882, the coalfields of New South Wales was celebrating the glory of being among the "greatest coalfields of the world". To increase production and profit, colliery owners erected 'worker villages' in close proximity to mine leases. These well-appointed and well-resourced sites invariably developed in to close
knit communities where children, such as Richard, would have received sufficient education, health care and social stimulation to support and nurture their development.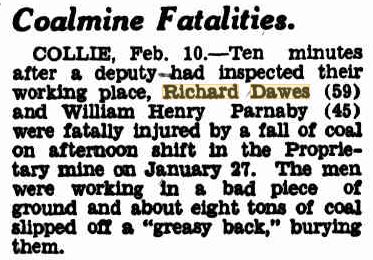 In July 1889, Richard's father volunteered to assist in the recovery of eleven miner's bodies after a roof collapse at a Glebe Colliery pit. At seven years of age, Richard would have shared the shock, disbelief and grief expressed by his small community. Incidents causing injury or death were all too common in the mining sector. Union intervention was fueled by the perception that colliery owners were putting profit before safety. Charles must have been feeling a curious sense of de-ja-vu.
Meanwhile, in Western Australia, there was fear that unrest in New South Wales would have adverse effects on the supply of coal to the state. Coal had been discovered in the south west of Western Australia as early as the mid 1880's but efforts to realise a local source had not been a high priority. By the mid 1890's, coal was essential for the rapidly expanding railway network and the increasing numbers of visiting steamships. Supporters argued that the identification and processing of locally sourced coal would alleviate the challenges of importing the ore from the eastern states. In September 1897, 'The West Collie' shaft became the first coal producing mine in Western Australia.
By 1903 most members of the Dawes family were living in Collie. Richard first appears as a voter, Collie inhabitant and 'hewer' in 1906. As a hewer, Richard had to enter an underground chamber, "lay down on his side" at the coal face and "undercut" the coal with his pick in order to dislodge manageable portions of ore from the face. Besides working in a cramped, dusty and poorly illuminated space, Richard needed to be alert to multiple dangers including 'movement' in the face or water in the cavity. His greatest challenge, however, was to 'guess' the amount of coal that would fall from the face and where it would land.
On 14 April 1910, Richard married Margaret Mary "Maggie" Merrey (1892-1934) daughter of William Merrey (1867-1905) and Anna, nee Stewart (1867-1924) in Collie. They purchased land and built a home at 9 Lane Street where their three children Charles Henry George (1910-1970), William Thomas (1916-1968) and 1920 Annie Irene (19201986) were born and raised.
The Dawes family seemed to have found the stability and peace that their patriarch had pursued. Then, in 1921 and 1924 respectively, Richard lost his father and mother. His father suffered heart failure while visiting family in New South Wales. His body was not returned home and he was interred at Sandgate Cemetery, Newcastle aged 80. Christiana's passing in May 1924 at 83 years, enabled the family to erect an impressive tombstone at Collie Cemetery – a demonstration of love and respect for both parents.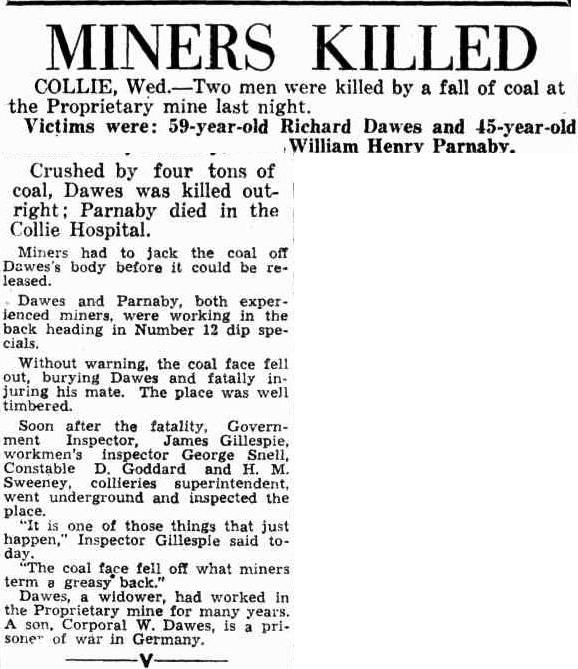 After the death of his parents, Richard continued his hewing occupation at the 'Proprietary Colliery'. Described by family as a 'gentle giant', Richard was a non assuming and private person, preferring the company of his family to social activities offered in town. On 22 March 1934, he lost his wife Maggie at 42 years of age. Richard made the difficult decision to remove his youngest child and only daughter, 14 year old Annie Irene, out of school to care for the family. Married in 1938, Annie and her husband, John Kennett White Graham (1920-1986) also called 9 Lane Street home where they raised their own four sons and two daughters. Today, this same property is owned and occupied by a son of Annie and John's.
On 27 January 1942, a slab of ore slid from the face in the chamber where Richard was hewing. Despite it having been reduced in size after hitting a skip bin, a 4 ton piece landed on Richard, killing him instantly. Richard lays at rest with his wife Maggie at the Collie Cemetery, in location Anglican H 65.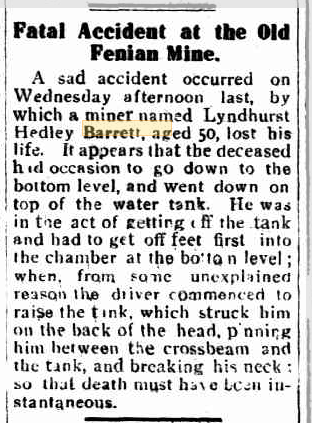 Richard's death at 59 years of age is commemorated on the Western Collieries Limited Memorial, along with other men who lost their lives to the 'black gold' in the Collie coalfields between 1897 and 1994, the year underground mining ceased in the district.