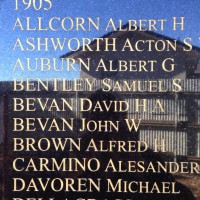 Eastern Goldfields Miners Memorial at the WA Museum in Kalgoorlie
Albert George AUBURN
Age at Death21
Date Of Death25 October 1905 : Reg 1608/1905
Place Of BirthWodonga West, Victoria
OccupationMiner
Name Of Mine On Which Last Employed
Squib GM, Hancock's, near Sandstone, Western Australia
Diagnosis or cause of accident
Fall of a ton of earth.
Place Of Burial
Black Range Cemetery (Nunngarra), Western Australia
Submitted by
David McMillan
District
Nungarra near Sandstone
Cause of Death
Mine Accidents
Father
George AUBURN
Mother
Mary Anne ECK
Other Information
AUBURN Albert George (Grave on boundary fence) d 25 Oct 1905, at Nungarra, Occ:- Miner, Cause:- Fall of earth in the Squib GM, Accidental Verdict of Coroner, Father:- George AUBURN (Storekeeper) Mother:- Mary Anne ECK, Born Wodonga West Victoria, in VIC 19yrs, In WA 2yrs, buried Nungarra Cemetery Reg: East Murchison 16/1905

Auburn, Albert George. "More Lonely Graves of Western Australia". (2000) Coate, Yvonne & Kevin. Hesperian Press. Page15.