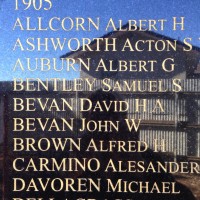 Eastern Goldfields Miners Memorial at the WA Museum in Kalgoorlie
Albert Harris ALLCORN
Age at Death32
Date Of Death8 September 1905 : Reg 198/1905
Place Of BirthShepparton, Victoria
OccupationTrucker/Miner
Name Of Mine On Which Last Employed
Oroya Brown Hill Gold Mine, Kalgoorlie-Boulder, Western Australia
Diagnosis or cause of accident
Killed by a fall of stone.
Place Of Burial
Kalgoorlie Cemetery, Western Australia
Submitted by
Admin
District
Kalgoorlie-Boulder
Cause of Death
Mine Accidents
Father
George Allcorn
Mother
Frances Hanks
Other Information
An article in "The West Australian" dated Saturday 9th September 1905 reads:
"FATAL MINING ACCIDENT, Kalgoorlie. September 8 A fatal accident occurred in the Oroya mine this afternoon, the victim being a young man named Albert Harris Allcorn, who was working in a stope at the No. 10 level, when about three tons of earth fell oil him, breaking his neck. Allcorn, who was a native of Koorumburra (Vic.), where his father resides, was a new arrival in the State, and had been working for about a week on the Oroya prior to his death. He has a brother in Kalgoorlie."