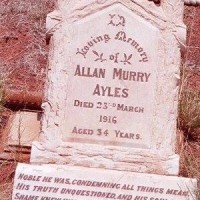 Wiluna Cemetery, Western Australia
Allan Murray AYLES
Age at Death35
Date Of Death23 March 1916 : Reg 4/1916 East Murchison
OccupationBattery Hand
Spouse's NameMarried twice: Hilda WILLIAMS -1908 Fremantle WA and Mary A OSBORNE:- 1914 Murchison WA
ChildrenAllan Murray Ayles born Perth 1916 and Alma M AYLES born Murchison 1915
Name Of Mine On Which Last Employed
Wiluna State Battery, Murchison, Western Australia
Diagnosis or cause of accident
Ayles was caught in the driving belt of a berdan pan at the state battery, Wiluna, and crushed.
Place Of Burial
Wiluna Cemetery, Western Australia
Submitted by
Ian Hodkinson - Volunteer
District
Wiluna
Cause of Death
Mine Accidents
Father
Allan AYLES
Mother
Mary E PHILLIPS
Other Information
Story: Accident at the State Battery – miner profile

The Daily News, 15 June, p. 4. (THIRD EDITION)
Administrations: Allan Murray Ayles, late of Wiluna, to the W.A. Trustee, Executor and Agency Co. Ltd., £329 11s 4d.

Came from Wellington, New Zealand.