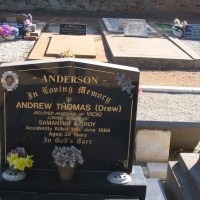 Burra Cemetery, South Australia
Andrew Thomas Maxwell ANDERSON
Age at Death33
Date Of Death11 June 1986
OccupationTruck Driver
Spouse's NameVicki
ChildrenSamantha and Troy
Name Of Mine On Which Last Employed
North Kalgurli GM, Kalgoorlie-Boulder, Western Australia
Diagnosis or cause of accident
Mr Anderson was assisting in the removal of a 60-tonne haul truck from a low loader when a jack slipped, causing the truck to drop. Mr Anderson was crushed between the front tyre and a wooden chock.
- Department of Mines, Industry Regulation and Safety.
Place Of Burial
Burra Cemetery, South Australia
Submitted by
Admin. Updated by D. McMillan
District
Kalgoorlie-Boulder
Cause of Death
Mine Accidents
Father
Arthur Anderson
Mother
Mary Hembury
Place of marriage
Morpeth, England