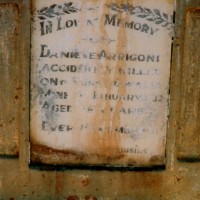 Leonora Cemetery, Western Australia
Daniele ARRIGONI
Age at Death38
Date Of Death5 January 1932 : Reg 4/1932 Mt Margaret Accident occurred on 4th Jan Died in the Leonora hospital the following day.
Place Of BirthItaly
OccupationMiner
Spouse's NameGiovieni MORZZELI
ChildrenMary 9yrs, Theodora 6yrs, Francino 2yrs
Name Of Mine On Which Last Employed
Sons of Gwalia GM, Leonora, Western Australia
Diagnosis or cause of accident
Killed by a fall of rock.
Place Of Burial
Leonora Cemetery, Western Australia
Submitted by
Admin. Updated by D.McMillan.
District
Gwalia
Cause of Death
Mine Accidents
Father
John ARRIGONI (Farmer)
Mother
Maincisco MEVI
Place of marriage
Italy c1926
Other Information
Left a wife and small family in Italy.