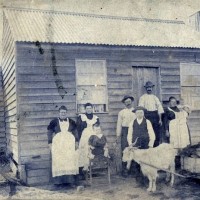 Edward Alcock (in doorway), Southern Cross, Western Australia. Also Agnes McMillan (mother-in-law), sisters Alice and Mary (nee McMillan) and Alf Fisher. Reg Fisher with goat.
Edward ALCOCK
Age at Death47
Date Of Death26 September 1912.
OccupationMiner
Spouse's NameAlice McMillan
ChildrenSeven - some deceased.
Name Of Mine On Which Last Employed
Roodeporte, South Africa.
Length Of Time Working In Mining Industry
All his working life - NSW and WA.
Diagnosis or cause of accident
Alcock worked all his life in the mines in New England, NSW, then Day Dawn at Cue, and Frasers, Southern Cross. He appeared before the Royal Commission on the Ventilation and Sanitation of Mines at Southern Cross in 1904. He made several trips to South Africa between 1905 and 1912 where he died.

A few months after his death, his daughter, Martha Feltham, wrote to her aunt: "Mother received full particulars of Dad's death. He died from "Miners Complaint" in the hospital. Mother gets 400 pounds compensation, in or about March."
Place Of Treatment (Miners Lung Only)
Hospital, Johannesburg, South Africa.
Place Of Burial
South Africa - presumably Roodeporte or Johannesburg.
Submitted by
David McMillan
Place of marriage
Red Range, Glen Innes, NSW. 1889.
Other Information
Western Mail, Friday 11 October, 1912, Death Notices:
ALCOCK .-On September 26, Rooderpoorte, South Africa, Edward, the dearly-beloved husband of Alice Alcock, aged 47 years. (By cable).

Brother-in-law to Archibald McMILLAN, who also died of miners lung after working in the mines of New England, NSW, and the Eastern Goldfields, WA.

For more info: Edward Alcock