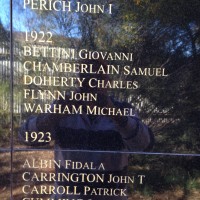 Eastern Goldfields Miners Memorial at the WA Museum in Kalgoorlie
Fidal A ALBIN
Age at Death60
Date Of Death9 July 1923 : Reg 12/1923 Mt Margaret
Place Of BirthSwitzerland
OccupationMiner
Name Of Mine On Which Last Employed
Devon Gold Mine, Western Australia
Diagnosis or cause of accident
Died of heart failure at the end of his shift.
Place Of Burial
Linden Cemetery, Menzies, Western Australia
Submitted by
David McMillan
District
Linden
Cause of Death
Mine Accidents
Other Information
An article in "The Kalgoorlie Miner" dated Thursday 19th July 1923 reads:
"A sudden death occurred in Linden on Monday evening of last week, when John Albion, an old miner and prospector of the North Country, passed away. He had only reached Linden a few days previously and secured work on the Devon mine. He had just completed his first shift, and whilst in the act of changing his working clothes, he suddenly collapsed from what was apparently heart failure, and before his mates reached him he had expired. Deceased was of Swiss nationality, and about 60 years of age. He was well known and highly respected. It is understood that he has no relatives in this state."

Although the article names "John Albion" I believe this article is actually referring to Fidal Albin. There is no death notice for a John Albion and this death occurred at the right time to be Fidal.