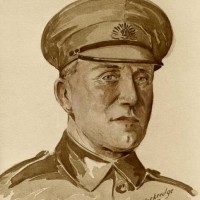 Sgt George Boyland. From the photo collection of John and Stella Boyland.
George BOYLAND
Age at Death48
Date Of Death06 August 1920
Place Of BirthGarden Gully, Bendigo, Victoria.
OccupationMiner
Spouse's NameFrances Clara BRIDGER then Violet Maud GRIFFITHS
ChildrenFive children.
Name Of Mine On Which Last Employed
Golden Mile, Kalgoorlie-Boulder, Western Australia
Length Of Time Working In Mining Industry
27
Diagnosis or cause of accident
Phthisis (TB),
Place Of Treatment (Miners Lung Only)
Wooroloo Sanatorium (Repatriation Department)
Place Of Burial
Kalgoorlie Cemetery, Western Australia
Submitted by
Priscilla Hill
Mines Workers Relief Fund Number (If Known)
176
MSW
Married twice
Father
John "Jack" BOYLAND
Mother
Jane Fraser DUNCAN
Place of marriage
Melbourne 1898 and Kalgoorlie 1908
Other Information
Brother of John BOYLAND who died of phthisis in 1922. George BOYLAND Born 8 Mar 1872, Garden Gully, Bendigo, Victoria. According to his Death Certificate George moved as a child from Victoria to Queensland, and then around 1894 to W.A. In 1898, according to his first Marriage Certificate, George was a 26 year old miner. Although the marriage took place in Melbourne, and two of the daughters of this marriage were born in Victoria, (in 1899 and 1903 respectively), his second daughter was born in WA in 1901 and his first daughter and his wife died in 1903 and 1904, respectively in WA. In March 1906, George was of Ward St, Lamington, Kalgoorlie; and was recorded as mining in Kalgoorlie with his father and brother, John. In 1908 George married in Kalgoorlie. His second Marriage Certificate states he was a miner of Kalgoorlie, and the six children of that marriage were all born between 1908 and 1919 in Kalgoorlie. In 1911, his son John's Birth Certificate states he was a miner of 28 Ward St, Kalgoorlie. Later records show George as being a Shift Boss in Kalgoorlie. George, a miner of 37 Lewis St, Kalgoorlie, enlisted for the A. I.F. on 25 Nov 1915. He was discharged on 24 Jun 1916 due to Phthisis (TB), and re-enlisted at Kalgoorlie on the 29 Jan 1917. He gained the rank of Sergeant with the 3rd Tunnellers (late Miners Corps) in the A.I.F. On the 21 Jul 1918, he returned to Australia from England for discharge due to Phthisis. He was discharged from the A.I.F. on the 20 Aug 1919 as medically unfit. He lived only one year after returning from the war. George died, aged 48years, on the 6 Aug 1920 at his home, 37 Lewis St, Kalgoorlie. His Death Certificate states he died from Gas Poisoning (France), Pulmonary Tuberculosis and Cardiac Failure. He was buried 7 Aug 1920 in grave No. 5570, Church of England Section B, Block 7, Section 18 at the Kalgoorlie Cemetery. The grave, unmarked for years, had an official memorial headstone erected on the plot in Sept 1994 by the Department of Veteran's Affairs, Office of Australian War Graves, at the request of the family. According to his Death Certificate, George spent 9 years in Victoria (1872 81), 13 years in Queensland (1881 94), and 26 years in WA (1894 1920).