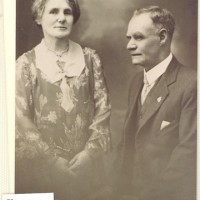 Florence Ada Anderson nee Connolly and George Albert ANDERSON - Wongan Hills 1930's.
George Albert (Russon) ANDERSON
Age at Death55
Date Of Death25 September 1934: Reg East Coolgardie 214/1934
Place Of BirthWarragul, Victoria
OccupationMiner
Spouse's NameFlorence Ada Connolly : Florence Ada Connolly died on 14 December 1950 in Claremont, Western Australia, when she was 77 years old.
ChildrenAlbert, Winnifred, George William, Dorothy (Dolly) ANDERSON.— also At Kalgoorlie, on 26th Florence Muriel, infant daughter of George and Florence Anderson, of Kanowna. At rest.
Name Of Mine On Which Last Employed
She's Right GM, Laverton, Western Australia
Diagnosis or cause of accident
Mines department Report 1934 A slight accident caused the death of another miner. He slipped while descending a pass and injured his knee. He died four months later from toxemia as a result of the accident.
Place Of Burial
Kalgoorlie Cemetery, Western Australia
Submitted by
Eric Chamberlain - Volunteer
District
Laverton
Cause of Death
Mine Accidents
Father
Theodore Anderson was 22yrs when George was born.
Mother
Matilda RUSSON : was aged 14 when George was born.
Place of marriage
17 Oct 1905, Kalgoorlie, Western Australia
Other Information
War Service:- Dossier Year Range: 1914-1920 Enlistment Place: Blackboy Hill, Western Australia Service Number: 2860 Next of Kin: Florence Ada Anderson Relationship to Soldier: Wife THANKS.— Mrs. F. Anderson and family wish to thank Dr. Gillett and staff of St. John of God Hospital, Kalgoorlie, for their kind and sympathetic treatment of her husband, the late George Anderson ; also the Kalgoorlie branch of the R.S.L.A. for their kindness, and Captain Grey, of Laverton. - Kalgoorlie Miner, Wednesday 26 September 1934, page 4 Ancestry.com bruce connolly Calgary, Alberta, Canada Retired commercial photographer with frequent mail contacts with England, South Africa and West Australia in the 1980s building a hardcopy tree with over 800 names,photographs and certificates.the Taylor family is primarily English with 3 families having moved to my city Calgary in the past years, the Connolly family in England remain there and the Connolly family in S. Africa and Australia remain there as well for more than 10 years I was the volunteer curator with the Naval Museum of Alberta in Calgary i left the museum at Christmas 2014. I acquired Ancestry.ca in 2009 and have also re-acquired my love of my family tree which I hope you can help me with.My focus is in the Taylors and Pitts in Gravesend and Northfleet plus the Connolly family in Dulwich (both named James and both nurserymen).James junior's family was orphaned at or near Woolwich and one of the orphans Alfred Thomas Connolly my paternal grandfather was lost at sea on a fishing boat sailing out of Grimsby in 1907 ,The others were dispersed around the world.After Alfred Thomas was lost at sea my father Henry(Harry) and his siblings were placed in the Sailors Orphan Home at Newland Hull.The Connolly members in South Africa and Australia are of course included in my research.My tree connolly and taylor 2010 is public . DEATHS NOTICES ANDERSON.— The friends of Mrs. Florence Anderson, Ada and George, (of Perth), -Dolly (Mr.s. Pelham. of Lake' Grace), Bert (of Dalwallinu). Winifred (Mrs.' Salter, Perth), are respectfully notified that the remains of their late dearly beloved husband and father, respectively, George Albert : Anderson will be removed from Strother's Private Mortuary. 18 Hannan Street, Kalgoorlie, THIS (Wednesday) AFTER NOON,, at 2 o'clock, for interment in the Anglican portion of the Kalgoorlie Cemetery. . W. Strother, Undertaker. ANDERSON:, Kalgoorlie Branch.- -Members, of the above are respectfully invited' to follow the remains of our late : comrade, George Albert Anderson: Cortege will leave W. Strother's 'Private Mortuary THIS (Wednesday) AFTERNOON, at 2 o'clock, for the Kalgoorlie Cemetery. T. C. Fairley, Secretary. The death of a returned soldier, George Anderson, at the St. John of God Hospital, Kalgoorlie, cast a gloom over the district and sympathy is extended to his widow and family by all who knew him. He was a resident of Laverton for many years. https://trove.nla.gov.au/newspaper/article/34640241?searchTerm=George%20Anderson%20laverton&searchLimits= When George Albert Anderson (Russon) was born on 16 January 1880 in Warragul, Victoria, his father, Theodore, was 22 and his mother, Matilda, was 14. Ancestry.com Hull-Jones-Edwards-Nicholls Family Tree PUBLIC MEMBER TREE 2 attached records, 5 sources photos Name: George Albert Anderson (Russon) Birth: 16 Jan 1880 - Australia Death: 25 Sep 1934 - Coolgardie, Western Australia, Australia Marriage: 17 Oct 1905 - Kalgoorlie, Western Australia, Australia Parents: Theodore Anderson, Matilda Mary Russon Spouse: Florence Ada Connolly