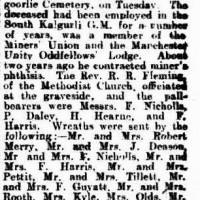 Western Argus, Tuesday 30 April 1918
James Thomas CALDWELL
Age at Death48
Date Of Death22 April 1918. Reg 30/1918 Boulder.
Place Of BirthPaisley, Renfrewshire, Scotland
OccupationMiner
Spouse's NameMary Berriman
ChildrenJames and Stella.
Name Of Mine On Which Last Employed
South Kalgurli GM, Kalgoorlie-Boulder, Western Australia
Diagnosis or cause of accident
Miners phthisis.
Place Of Burial
Kalgoorlie Cemetery, Western Australia
Submitted by
David McMillan
Father
James Caldwell
Mother
Janet McCullough
Place of marriage
Coolgardie, Western Australia. 1897.