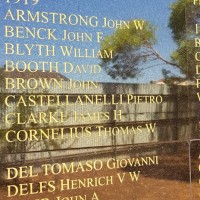 Eastern Goldfields Miners Memorial at the WA Museum in Kalgoorlie
John William ARMSTRONG
Age at Deathc72
Date Of Death5 September 1919 : Reg 222/1919 East Coolgardie (Kalgoorlie)
Place Of BirthGreenwich, England.
OccupationMiner
Spouse's Name1st - Florence MAY 'Fanny' born 1890 - 2nd Annie PUTTOLO
Children1st - Mary & John William 2nd - Laura Jane Elizabeth.
Name Of Mine On Which Last Employed
South Kalgurli GM, Kalgoorlie-Boulder, Western Australia
Diagnosis or cause of accident
Hit by falling rock and died in hospital.
Place Of Burial
Kalgoorlie Cemetery, Western Australia
Submitted by
David McMillan
District
Kalgoorlie-Boulder
Cause of Death
Mine Accidents
Place of marriage
2nd - 1890 Narrandarra NSW