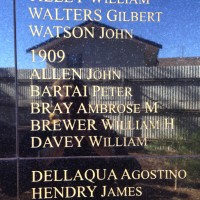 Eastern Goldfields Miners Memorial at the WA Museum in Kalgoorlie
John ALLEN
Age at Death30
Date Of Death12 May 1909 : Reg 71/1909 Boulder
OccupationMiner
Name Of Mine On Which Last Employed
Oroya-Brown Hill Central Boulder Mine, Western Australia
Diagnosis or cause of accident
Killed by a fall of stone at the Oroya-Brown Hill Central Boulder Mine.
Place Of Burial
Kalgoorlie Cemetery, Kalgoorlie-Boulder, Western Australia
Submitted by
Admin. Updated by D.McMillan.
District
Kalgoorlie-Boulder
Cause of Death
Mine Accidents
Other Information
An article in the "Kalgoorlie Western Argus" dated Tuesday 18th May 1909, reads:
FATAL MINING ACCIDENT
A sad accident involving the death of John Allen, a young man, occurred in the Central Boulder mine Wednesday afternoon. The mine belongs to the Oroya Brown Hill Company, and is situated between the Associated and the Lake View. The deceased and his mate, Ernest Craig, were engaged sinking a winze from the 100 ft. to the 200 ft. levels.
They finished their shift at 4 o'clock, and then went along the level towards the shaft. As they were doing so, without the least warning, a stull either gave way or slipped from its hitches, and a heavy mass of stone came away, burying the unfortunate man, Allen. Craig was more fortunate, as the stone merely touched his leg, and he escaped without injury.
Craig at once gave the alarm, and a batch of men went quickly to work seeking to extricate the buried miner, but the task proved a much more onerous one than was at first anticipated.
Dr. Bissett was summoned, and he arrived on the mine long before the rescue party had extricated the victim from the debris. They were kept hard at work for over an hour before they had cleared the fall sufficiently to get him out, and word was then sent to the surface and the doctor descended.
He found a party of men seeking to restore animation in the unconscious man by means of artificial respiration, but after making a hurried examination he expressed an opinion that he was afraid their exertions would have no avail.
In the faint hope that life was not extinct the doctor ordered the unconscious man to be at once raised to the surface, and he gave those who went up with him on the bucket certain directions which they were to strictly follow till such time as the bucket could be again lowered and he himself brought up.
When the doctor had a chance of making a further examination in the daylight he pronounced life to be extinct. Constable Spalding then took charge of the body, and removed it to the morgue to await the inquest. It is not mangled in any way, so it is probable that death was due to suffocation, and not to injuries sustained.

The deceased was a married man, about 30 years. of age, and lived at Hill End. He was a member of the Boulder branch of the Federated Miners' Union.