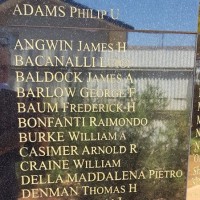 Eastern Goldfields Miners Memorial at the WA Museum in Kalgoorlie
Luigi BACANALLI
Age at Death24
Date Of Death22 May 1911 : Reg 19/1911 Mt Margaret
Place Of BirthItaly - in Western Australia 4 yrs.
OccupationMiner
Name Of Mine On Which Last Employed
Sons of Gwalia GM, Leonora, Western Australia
Diagnosis or cause of accident
The cage went out of control and fell 2000ft to the bottom of the shaft. BACANALLI died in the Leonora Hospital. Also killed were Frank ROONEY, Philip ADAMS and Raimondo BONFANTI.
Place Of Burial
Leonora Cemetery, Western Australia
Submitted by
David McMillan
District
Leonora
Cause of Death
Mine Accidents
Father
Santo BACANALLI (School Teacher)
Mother
Govanni GIBELLINI
Other Information
Also referred to as Louis Bachenelli.