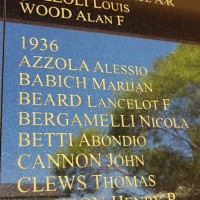 Eastern Goldfields Miners Memorial at the WA Museum in Kalgoorlie
Marijan BABICH
Age at Death32
Date Of Death26 July 1936 : Reg 162/1936 East Coolgardie (Kalgoorlie)
Place Of BirthCroatian / Slavonic
OccupationBogger
Name Of Mine On Which Last Employed
Chaffers shaft, Lake View & Star GM, Boulder, Western Australia
Diagnosis or cause of accident
Accident occurred on the 18th May - fall down ore shaft.
Place Of Burial
Kalgoorlie Government Hospital, Western Australia
Submitted by
Eric Chamberlain - Volunteer
District
Kalgoorlie-Boulder
Cause of Death
Mine Accidents
Other Information
IN MEMORIAM
BABICH. — In loving memory of our beloved member, Marian Babich, who departed this life on the 25th July, 1936. Inserted by the members of the Croatian Slavonic Society.
Kalgoorlie Miner, Tue 27 Jul 1937
BABICH. — Croatian-Slavonic Society . — The members of the above society are hereby informed that the remains of our late member Babich, will be removed from W. Strother's Mortuary, 18 Hannan street THIS (Monday) MORNING at 11.30 o'clock, for internment in the Kalgoorlie Cemetery.
— T. Miateljan, Secretary Croatian--Slavonic Society.