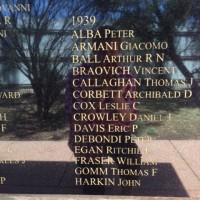 Eastern Goldfields Miners Memorial at the WA Museum, Kalgoorlie.
Pietro "Peter" ALBA
Age at Death36
Date Of Death5 October 1939 : Reg 23/1939 Yilgarn
Place Of BirthTirano, Sondrio, Lombardia, Italy
OccupationMachine Miner
Name Of Mine On Which Last Employed
Wither's Find GM, Bullfinch, Western Australia
Diagnosis or cause of accident
Head blown off in explosion. Giacomo ARMANI also killed in same accident.
Place Of Burial
Karakatta Cemetery, Perth, Western Australia
Submitted by
Eric Chamberlain - Volunteer
District
Yilgarn
Cause of Death
Mine Accidents
Other Information
FUNERAL NOTICES.

ALBA.--The Friends of the late Mr. Peter Alba, of Bullfinch. are respectfully informed that his remains will be interred in the Roman Catholic portion of the Karrakatta Cemetery at 350 o'clock THIS (Saturday) AFTERNOON. The Cortege is appointed to leave the Service Chapel of Arthur J. Purslowe and Co. 664 Newcastle-street. Leedervilie. At 30 o'clock. Friends may'proceed by the train leaving Perth at 3.10 o'clock, ARTHUR J. PURSLOWE AND CO.. 20 Angove-street. North Perth, Leederville. Guild ford. Vlctoria Park. Tel. B2649. In conjunction with L. A. Miller. Funeral Director, Merredin.

Arrival in Australia:- Name: Mr P Alba Departure Place: London, United Kingdom Arrival Date: 15 Dec 1925 Arrival Place: Fremantle, Western Australia, Australia Vessel: Orama

Withers Find, Bullfich The Wither's Find Gold Mine is approximately 5 kilometres east of Bullfinch. Where the Wither's Find Road turns north-east to north, an unmarked track heads east for 200 metres to a small water filled pit. 50 metres further east south-east is a 100 metre line of trenches trending west north-west to east south-east. Various minor workings are in the surrounding area including some close to the road. While the region is known for wheat farming, Wither's Find is located in a large block of scrub. The site was discovered around 1922, a narrow 12 inch reef, in a depression between two laterite rises. A number prospectors were soon on the field, with varying results, but nothing earth shattering in gold was found. The original find was made by Slade and Withers (surnames). Bewick Moreing and Co took a working option over the mine but found little. However, floaters were found, and some prospectors were getting gold in quartz from small narrow reefs at the time, so there is some gold in the area. In 1939, two Italian miners died at the mine when explosives misfired. The local newspaper reported the incident, although names at that stage had not been released. Deaths from mining were so common at the time, no other newspaper bothered to report it.