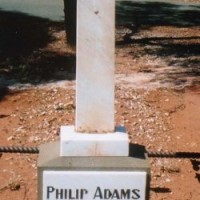 Leonora Cemetery, Western Australia
Philip Uphill ADAMS
Age at Death34
Date Of Death22 May 1911 : Reg 18 1911 Mt Maragret
Place Of BirthSouth Australia
OccupationSurveyor
Spouse's NameNellie Maud NURSE
ChildrenNo
Name Of Mine On Which Last Employed
Sons of Gwalia GM, Western Australia
Diagnosis or cause of accident
The cage went out of control and fell 2000ft to the bottom of the shaft. Also killed were Frank ROONEY, Luigi BACANALLI and Raimondo BONFANTI.
Place Of Burial
Leonora Cemetery, Western Australia
Submitted by
David McMillan
District
Gwalia
Cause of Death
Mine Accidents
Father
John Emos ADAMS
Mother
Annie DALRYMPLE
Place of marriage
Perth, Western Australia. 1906.