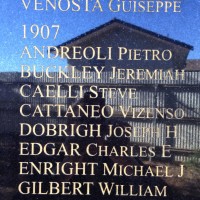 Eastern Goldfields Miners Memorial at the WA Museum in Kalgoorlie
Pietro ANDREOLI
Age at Death34
Date Of Death3 April 1907 : Reg 11/1907 East Murchison
OccupationMiner
Name Of Mine On Which Last Employed
Waroonga GM, Agnew/Lawlers, Western Australia
Diagnosis or cause of accident
Fell out of ascending cage. Also killed were Owen OWENS and Vince CATTANEO.
Place Of Burial
Lawlers Cemetery, Western Australia
Submitted by
Updated by D.McMillan volunteer
District
Agnew / Lawlers
Cause of Death
Mine Accidents
Other Information
Also killed were Owen OWENS and Vincenzo CATTANEO.

Story: Shocking Accident- three lives lost!

After being knocked out of ascending cage into deep waters from recent floods. These had been part of the Varischetti story from the Bonnivale (near Coolgardie) accident that started 19 March 1907. Varischetti was entombed by flood waters for 9 days before being rescued. Renewed heavy rain lasted 18 days caused other accidents and deaths.