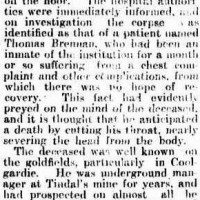 Kalgoorlie Western Argus, Tuesday 7 September 1915, page 31
Thomas BRENNAN
Date Of Death07 September 1915
Place Of BirthIndia
OccupationMiner
Name Of Mine On Which Last Employed
Griffith Gold GM, Coolgardie, Western Australia
Diagnosis or cause of accident
Inquest:-Sunday Times, Sun 12 Sep 1915 Page 14 The adjourned inquiry into the death of Thomas Brennan, an old goldfields identity, whose body was found in the lavatory at the Coolgardie Government Hospital, brought to light some distressing facts. Brennan had been for a long time an inmate of the Coolgardie Hospital, suffering from consumption and stricture. He was among those sent from Coolgardie to Wooroloo; under treatment he improved considerably, and asked to be allowed to return to Coolgardie. He was discharged from Wooroloo, and was, he said, conveyed for five or six miles to the station in a drenching-rain. This brought on a recurrence of the stricture trouble, accompanied by terrible pain. He was admitted as a patient to the hospital, and finally cut his throat with a razor. The jury, found that he died from a wound self-inflicted whilst temporarily insane, and added a rider suggesting to the authorities that properly covered conveyances should be provided for patients to and from Wooroloo, having regard, of course, to the weather. The "Sun" has previously animadverted on the monstrous carelessness of those in authority in this respect.
Place Of Burial
Coolgardie Cemetery, Western Australia
Submitted by
Eric Chamberlain - Volunteer
Father
Michael BRENNAN was born in 1806 in Westmeath, his father, Thomas, was 18 and his mother, Rose, was 16. He married Anne FITZGERALD in 1827. He then married Mary FURLONG and they had three children together. He died on 27 September 1887 in Onehunga, Auckland, having lived a long life of 81 years, and was buried there Ancestry.com----------------Parents and sisters are listed as being in New Zealand. He was aged 44yrs when Michael was born in India
Mother
Mary FURLONG
Other Information
BRENNAN.— The friends of the late Thomas Brennan are respectfully informed that his remains will be removed from the Coolgardie Government Hospital to-day (Thursday), at 10.30 a.m., for interment in the Coolgardie Cemetery. W.Strother, Undertaker. BRENNAN.— The friends of Peter Kelly, R, Nisbet, L. J. Staples, and Harry Cosgrove are respect fully invited to attend the funeral of their late comrade, Thomas Brennan, from the Coolgardie Government Hospital this day (Thursday), at 10.30 a.m.