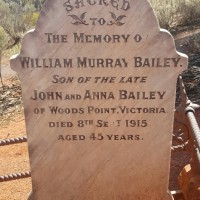 Ora Banda Cemetery - photo Danelle Warnock
William Murray BAILEY
Age at Death45
Date Of Death7 September 1915 - Headstone states the 8th Sept but he died on the evening of the 7th, Reg 9/1915 Broad Arrow
Place Of BirthWoods Point, Victoria.
OccupationMiner
Name Of Mine On Which Last Employed
Victorious GM, Ora Banda, Western Australia
Diagnosis or cause of accident
Died when he fell down a 100ft pass at the Victorious Mine.
Place Of Burial
Ora Banda Cemetery, Western Australia
Submitted by
Admin. Updated by D.McMillan.
Cause of Death
Mine Accidents
Father
John Bailey
Mother
Anna Maria Shanklin