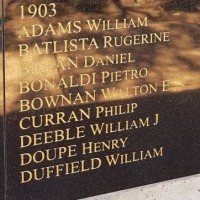 Eastern Goldfields Miners Memorial at the WA Museum in Kalgoorlie
William ADAMS
Age at Death36
Date Of Death5 December 1903 : Reg 94/1903
Place Of BirthLincolnshire, England
OccupationMiner
ChildrenSeven children
Name Of Mine On Which Last Employed
Boulder Perseverance GM, Kalgoorlie-Boulder, Western Australia
Diagnosis or cause of accident
Adams and Sullivan were a little in advance of their companions, and were shovelling a lot of loose stuff away. There was apparently nothing that indicated impending danger. Just then, however, there was a rumbling noise, and Collopy and the Austrian were horrified to see a big boulder break away and carry with it their two mates, William ADAMS and Benjamin SULLIVAN.
Place Of Burial
Kalgoorlie Cemetery, Western Australia
Submitted by
Ian Hodkinson - Volunteer
District
Kalgoorlie-Boulder
Cause of Death
Mine Accidents
Other Information
Killed in the same accident as Benjamin SULLIVAN.